Canon has announced two new cinema cameras. There were lots of rumors the last couple of days and nearly everything was correct. The EOS-1D C is a cinema camera in a DSLR body and costs $15,000. Very expensive. Don't know who will buy this camera, but perhaps I'm not the target audience. The 1D C is a 4K camera with a pixel size of 4096×2160 and records 8-bit 4:2:2 video to a CF card.
Features Canon EOS-1D C
18.1 megapixel full frame CMOS sensor
8-bit 4:2:2 Motion JPEG 4K
24p to 60p at Full HD
video mode crop APS-H, Full Frame, Super 35
Real time audio monitoring
available within 2012
price tag $15,000
The Canon EOS-1D C doesn't have built in ND filters, XLR audio, zebra or peaking etc. There is also a problem for PAL shooters like me. 4K seems to be only possible at 24p. That's odd!! It also has no SDI out, but you can have a clean HDMI signal with uncompressed 1080p 4:2:2.
UPDATE:
Canon press rep said, menus showed 24p because camera was set in NTSC mode. Seems to be the camera can shoot 25p at 4K. Good news!
UPDATE 2:
Ok, still not confirmed. It seems to be the Canon rep just meant 25p at 1080p. No confirmation from Canon yet, if the camera can shoot 25p at 4K!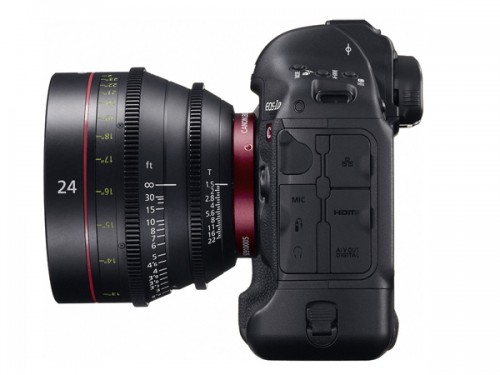 The C500 has nearly the same body design than the C300. I really like the form factor and it's like working with a DSLR. Small, compact and you can shoot faster compared to a bigger camera. It can shoot uncompressed 4:4:4 10-bit 4K video up to 60 fps, but it requires an external recorder. If you don't have a recorder you can only record 1080p on the internal CF-Cards (dual slot). At 2K resolution you can shoot up to 60fps with 12-bit 4:4:4. The camera records internally 50mbps to the Compact Flash cards.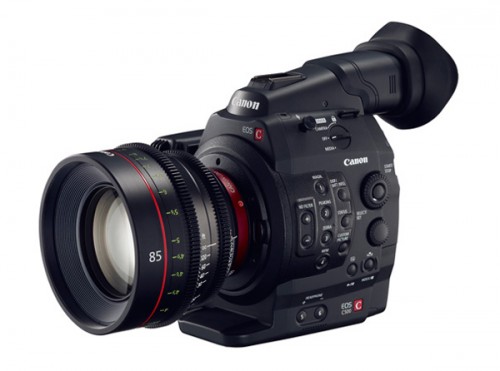 The camera is also able to shoot 120 frames per seconds in 2K and 108op. Dan Chung wrote on his blog, that the sensor doesn't crop while shooting slow motion – it down converts the image. We know this problem with the Red Epic and Scarlet.
There is no word from Canon how much the camera will cost, but I heard rumors about $35,000.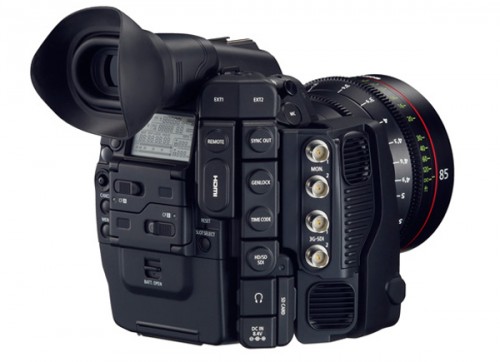 More updates to come. Very busy days and leaving to Vegas in a few days for NAB. I'll keep you posted!