This looks promising and it seems Blackmagic listened to the users, as the form factor of the Blackmagic Cinema and Production Camera isn't perfect. Now they announced the new Blackmagic URSA Digital Cinema Camera, which really looks promising.
It has a Super 35mm Ultra HD sensor (3840×2160) and can shoot up to 30 frames per second at this resolution. 60p is only possible at 1080p. However the body has the high speed processing and high capacity cooling to run beyond 100 fps, so when faster sensors are available you could upgrade and then get higher frame rates. Compared to the new Red Dragon the Dynamic Range of 12 stops isn't an highlight, but the price tag of this camera is really explaining why it can't have the same DR like the Dragon. You can get the EF model for $5,995, a PL-Version is available for $6,495 and there will be also a version with a B4 mount. It shoots ProRes HQ 422 and 12-bit CinemaDNG Raw on CFast 2.0 cards.
You can also buy the camera without a sensor. Then you have the possibility to use the body as an HDMI recorder and put your DSLR in front of the body. Sounds strange, I know. Probably you could also use this with the new Sony A7s, which needs an external recorder for 4k.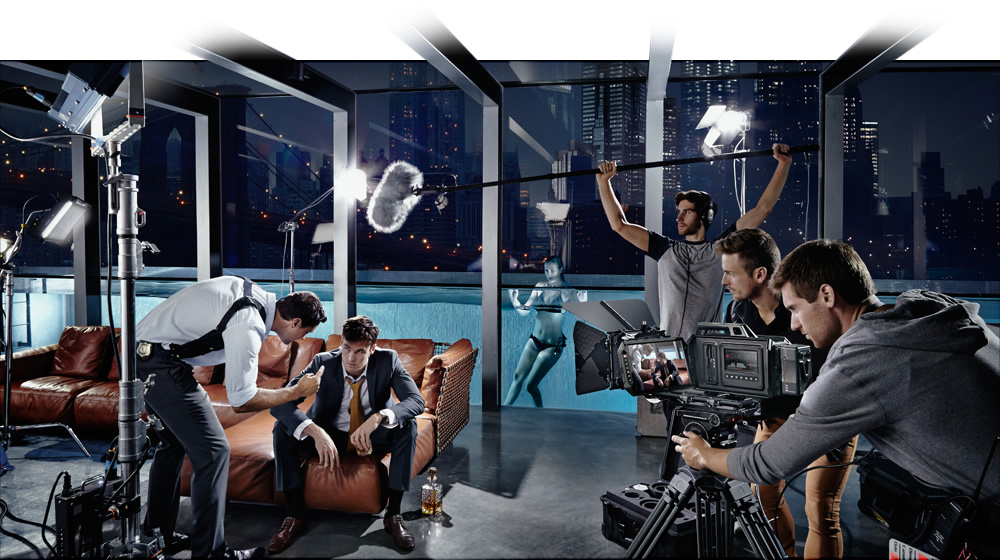 I'll keep this blog post updated, did not expect this from Blackmagic. It really looks like this is a professional camera. Important knobs and controls are on the right side for the First Camera Assistant. Though I'm not sure if I like the 10 inch display, as I prefer to have a monitor on a noga arm for being more flexible.
Some specs:
Effective Sensor Size
21.12mm x 11.88mm (Super 35)
Effective Resolution
3840 x 2160
Shooting Resolutions
3840 x 2160, 1920 x 1080
Frame Rates
3840 x 2160p23.98, 3840 x 2160p24, 3840 x 2160p25, 3840 x 2160p29.9, 3840 x 2160p3, 1920 x 1080p23.98, 1920 x 1080p24, 1920 x 1080p25, 1920 x 1080p29.97, 1920 x 1080p30, 1920 x 1080p50, 1920 x 1080p59.94, 1920 x 1080p60, 1920 x 1080i50, 1920 x 1080i59.9 and 1920 x 1080i60
Sensor frame rate support
Up to 60 fps
Dynamic Range
12 stops
Screen Type
10.1" – TFT-LCD
5" – Integrated LCD capacitive touchscreen
Storage Type
CFast 2.0
Storage Rates
Approx 880 Mbps using Apple ProRes 422 (HQ) at 3840 x 2160. Approx 220 Mbps using Apple ProRes 422 (HQ) at 1920 x 1080.
Compressed Recording Formats
Lossless compressed CinemaDNG RAW with film dynamic range at 3840 x 2160. Apple ProRes 422 (HQ) at 3840 x 2160 and 1920 x 1080 with either film or video dynamic range.
SDI Video Output
1 x 12G-SDI 10-bit 4:2:2. 1 x 3G-SDI down converted for external monitoring
SDI Video Input
1 x 12G-SDI
Ref Input
1 x Reference Input
Timecode Input
1 x Timecode Input
Timecode Output
1 x Timecode Output
Analog Audio Input
2 x XLR analog switchable between mic and line levels. Phantom power support.
Analog Audio Output
1/4" jack output for headphone monitoring
SDI Audio Output
2 channel
Remote Control
1 x 2.5mm LANC for Rec Start/Stop, Iris Control and Focus.
Computer Interface
USB 2.0 Mini-B port for software updates.
Read more about the Blackmagic URSA Digital Film Camera on the official website!
To be honest: I'm not sure if it's good to bring out new cameras every year. Blackmagic should fix firmware on their available cameras as soon as possible, as their are some missing features I'd like to see like formatting cards, deleting clips, proper audio levels etc. The Blackmagic URSA Digital Camera will ship this July. Hopefully! 😉