Canon announced their first S35 EOS Cinema camcorder Canon C300! The keynote is still running, but I will update this blog in the following hours.
Some specs:
Single 8.3 megapixel 2160×3840 Super-35 CMOS sensor (4K resolution) with Digic DV III processor
Canon XF codec (50Mbps 4:2:2 1080p30 MPEG2 MXF) records to two Compact Flash card slots
Canon Log gamma, SDI, compact body, Custom Presets and menus similar to Canon XF series
Exposure and focus control are completely manual — there is no AE or AF on either camera
Sold as a system, incl. LCD monitor / XLR audio unit, side grip, top handle, batt. & charger
10 bit 4:2:2 external, only single link HD-SDI
no 4:4:4 10 bit (only single link HD-SDI)
4:2:2 8bit 50mb/s MXF wrapped Mpeg 2 to CF internal
24P, 25P, 30P, 1080p
60P at 720
2 CF card slots
4″ LCD monitor
XLR outputs on the handle
HDMI & HD/SDI out
SD card for stills
Time Code with Genlock
Availability: Jan. 2012; Price: appx. $16,000 USD update: $20,000 (for C300)
The camera has a 4K sensor, but which is limited to 1080p! That's a bit odd! Also it's only possible to shoot slow motion at 720p with 50 frames in Europe or 60 frames in the US.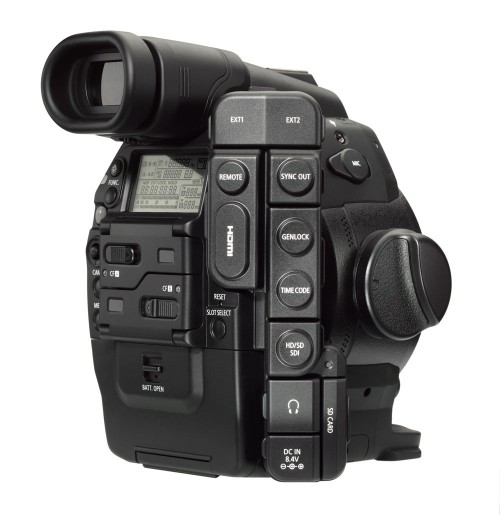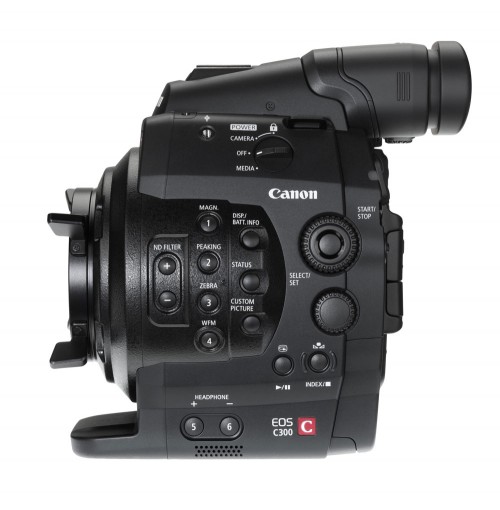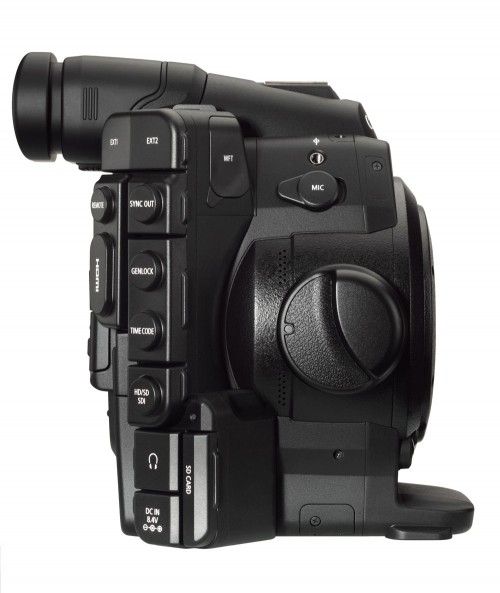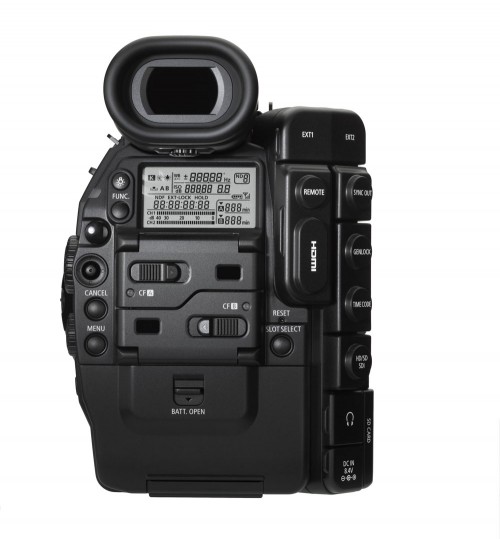 First footage shot by Vincent LaForet online:

New prime lenses announced, which resolve up to 4K resolution (EF-Mount only):
Canon Prime Lens CTZ-029 (24mm)
Canon Prime Lens CTZ-030 (50mm)
Canon Prime Lens CTZ-031 (85mm)
Already announced earlier this year:
Canon Zoom Lens CN-E14.5-60mm T2.6 L S (wide zoom, EF version)
Canon Zoom Lens CN-E14.5-60mm T2.6 L SP (wide zoom, PL version)
Canon Zoom Lens CN-E30-300mm T2.95-3.7 L S (telephoto zoom, EF version)
dCanon Zoom Lens CN-E30-300mm T2.95-3.7 L SP (telephoto zoom, PL version)
Here are the first photos by engadget: