I have to admit, that I have never used any optical viewfinder on my DSLR. Most of the time I focus with the small back display of my SLR camera. I read on many blogs in the past, that a viewfinder like the Z-Finder is an absolutely essential tool for DSLR filmmaking. Not for me! For my personal taste it is easier to focus without any optical viewfinder. The electronic zoom of the Canon DSLR's helps me much getting all my objects in focus. This isn't usable for "run and gun" shootings, but for most of the jobs it is okay.
Don't get me wrong, the Z-Finder is a great piece of kit, but for my taste the resolution of the video capable DSLRs is too low for a loupe. I always can see every single pixel of the lcd and this issue makes it harder to find the correct focus.
This is history now! I have a Cineroid EVF and it has become an essential tool for my daily work behind the camera. Since then my camera work has fundamentally changed. I don't want to go shooting without an EVF! I'm using it for my DSLR's, but you also can use them with the new Large Sensor Camcorders like the F3, FS100 or AF101/100. These EVF's are necessary, because all DSLR's with video function don't have any features such as peaking, false color, zebras and the list goes on…
Zacuto announced the Zacuto Z-Finder EVF last year. Steve Weiss from Zacuto sent me a pre production model of it and I thought sharing my experiences could be a benefit for you.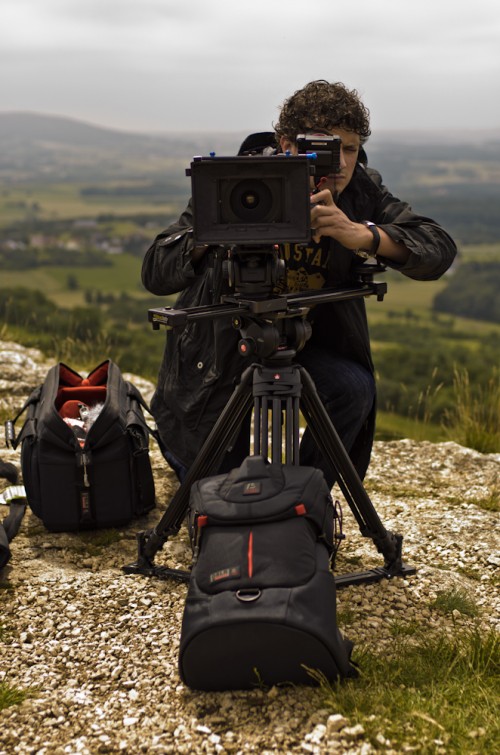 Built quality, screen and first impressions
The built quality of the Zacuto Z-Finder EVF is absolutely superb! On the back of the EVF is the battery, you can use the well known Canon LPE6 batteries, they are the same which we are using in our Canon 5D Mark II, Canon 60D and Canon 7D. So useful for people like me, who are shooting with one of these cameras. One battery for the EVF is included in every package. The battery lasts about 7 hours, this is definitely a quite good performance.
The quality of the screen is an whole new world for DSLR shooters. The screen has a size of 3.2 inch and an resolution of 800 x 480 pixel. I would compare the screen with an iPhone 4 retina display. Of course you can still see the pixels, but they are so close together, that it's absolutely easy to pull focus in critical situations.
There are different versions of the Zacuto EVF available, I have tested the Zacuto EVF flip version, which is my favorite one and worth the extra charge. You can easily flip the Z-Finder to the top, which is one advantage, because you can switch between EVF and LCD in seconds.
On the right side of the EVF's are large HDMI (!) inputs and outputs. It has a loop through function, which is a great option to have. It's nice to have a second LCD e.g. for the director or 1st AC. Large HDMI connections are okay for DSLR's, not perfect for camcorders like the F3 or AF101/100, but better than Mini HDMI. More robust and you don't have issues with broken signals…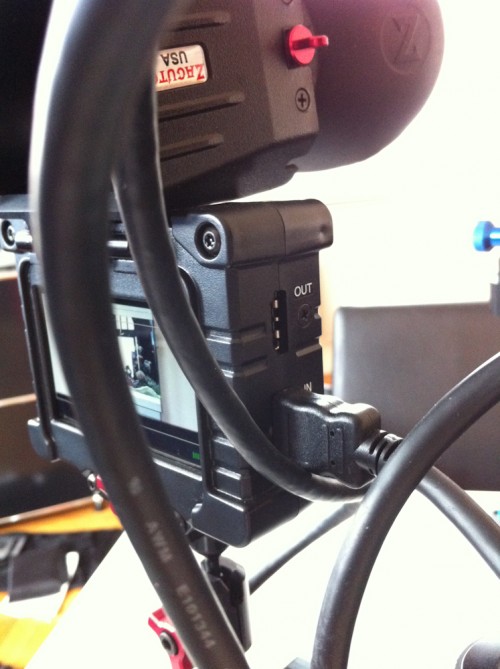 Finally I have to say, the Zacuto EVF is the absolutely leader in this price segment. The built quality is simply superb!!
Menu settings, firmware features & upscaling
Using an external monitor is a pain with DSLR's. If you don't have the new 7" Marshall LCD with DSLR ratio function or a Zacuto EVF you know the problem. On the left and right side of the display are black bars, which are relatively unattractive. The Zacuto EVF has an upscaling function, which blows of the ugly black bars. Awesome!! This is a killer feature for me! Sorry, I don't like to say killer, but I'm at a loss for words, so simply amazing is this feature!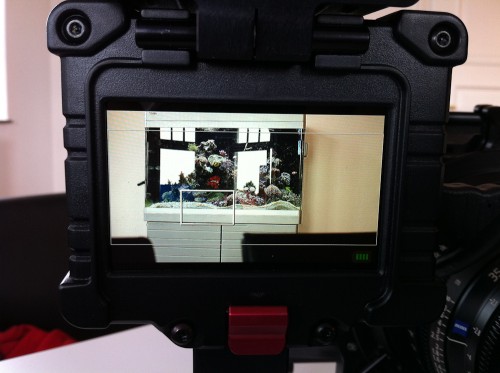 The Zacuto EVF firmware has already included plenty of presets for the current DSLR lineup (Nikon, Canon) and of course it works with the new Large Sensor Camcorder's as the F3, FS100 or AF101/100. You also can add your own presets.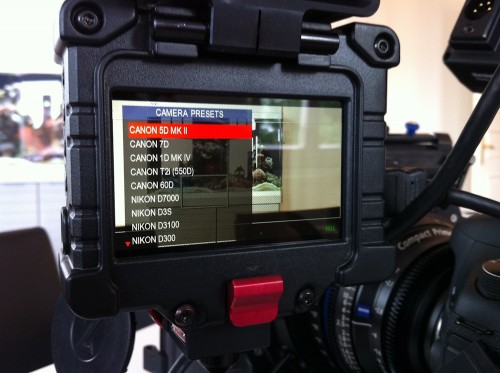 This is only one of many features. The next wonderful thing of it is the peaking function. It is a great help in critical focus situations. The Zacuto EVF offers three different peaking intensity levels. I prefer the first intensity. This function simply adds sharpness to the picture. Peaking helps especially using the new Technicolor CineStyle Picture Profile. This Picture Profile is ultra flat and it's quite hard to get everything in focus without the peaking function. However, I have to say I don't like this function of the Zacuto EVF that much. I'm a big fan of red peaking. For my taste it's easier to focus with red peaking.
Steve Weiss told me, that this feature will probably be part of an upcoming firmware update! Another advantage of this EVF. You can install updates via USB on the EVF. Awesome!!
The Zacuto EVF has also a pixel to pixel function, which is simply the same digital zoom function of your DSLR. I really love it to assign these functions on the buttons on the left side of the EVF.
The list of features goes on. False Color is integrated, this feature is a well known function in professional monitors. Different colors represent different levels of exposure. It makes it much easier to find the correct exposure, but this function should only be active for a quick check.
The zebra function shows overexposed areas. Like I said it's relatively difficult to get the right exposure with the new Technicolor CineStyle Picture Profile. This feature is an enormously help you for your daily work. There is nothing worse than a over- or underexposed image!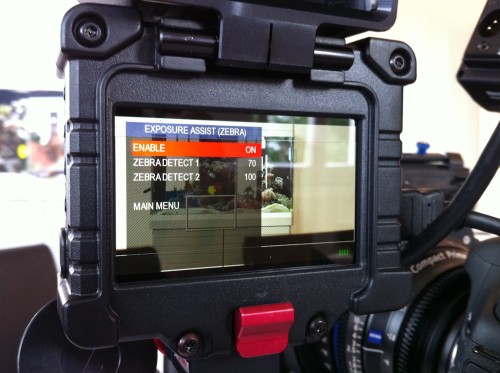 In addition to these loads of practical functions, there are many other useful features. It has a monochrome function, support for anamorphic lenses, different frame lines (2.35:1, 1.85:1 …) and the list still goes on. Seriously, I don't want to miss these features again!!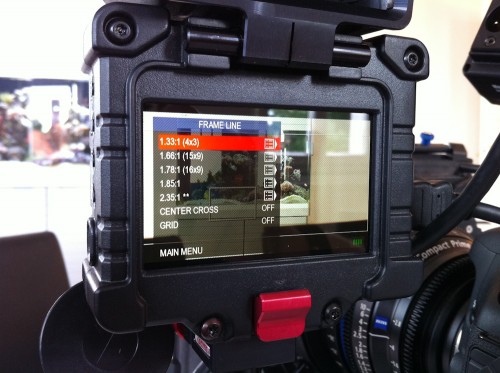 Like I said you can assign all of these functions like peaking, false color to three buttons on the left side of the EVF. After that you can quickly turn on and off these functions.
Conclusion
I still like my Cineroid EVF, but I only have the version with the old firmware. The new Zacuto EVF is the winner for me. It has large HDMI in and out, possibility to upgrade the firmware via USB and upscaling function for all current DSLR's. Personally I want a red peaking function, which I always love to use with my Cineroid EVF. Steve Weiss of Zacuto has already indicated, that this feature will probably be part of one of the upcoming firmware updates.
The built quality of Zacuto's EVF is terrific and also unbeaten in its price range. Also the display is perfect and the upscaling feature for DSLR's is a blessing!!
But which one should you buy? Both are great, the Cineroid EVF and the Zacuto Z-Finder EVF. Who already owns a Z-Finder should go with the Zacuto EVF.
Personally I don't want to miss the Zacuto EVF again. The Z-Finder wasn't an essential tool for my work with Video DSLR's, but the Zacuto Z-Finder EVF has become an absolutely essential tool for me!!
If you are from Europe you can also order the Zacuto Z-Finder EVF here!