It's finally out: The Technicolor CineStyle Picture Profile for Canon DSLR cameras!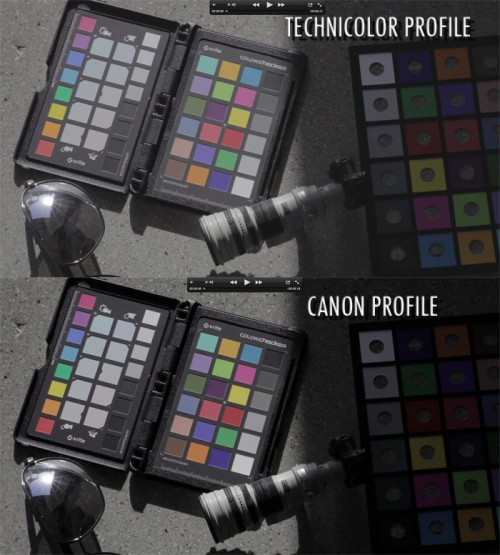 © Vincent LaForet – All Rights Reserved
I'm always shooting with a flat picture profile, which I can manually set directly in the camera (Sharpness 0, Contrast -4, Saturation -2, Color Tone 0). Now there is a much better solution available. I've seen the Technicolor Picture Profile at NAB and was really impressed. Now they released the free Picture Profile on their website. Yes, it's free! Jump ahead to get more info about this picture profile. After loading the profile on your camera, you will achieve much more dynamic range. It's a perfect choice for any application, e.g. Imagefilm, Productvideo, Documentary or any Commercial. The latitude improvement is significantly. It works on a Canon 7D, Canon 60D, Canon 550D (T2i), Canon 600D (T3i), but it was mainly developed for the Canon 5D Mark II!
More ressources for additional information on blogs:
Vincent LaForet
Zech's Camera
How to load Technicolor CineStyle into your Canon camera:
Ensure that EOS Utility v2.6 or later is installed on your computer
Download the Technicolor CineStyle Picture Style file using the link on Technicolor website
Connect your camera to your computer using the appropriate USB cable
Note: for the EOS 5D Mark II you may need to set "Communication" to "PC connect." in the camera's menu
Start the Canon EOS Utility
Select "Camera settings/Remote shooting" on the main window
Once the capture window opens, click the camera icon
Click "Register User Defined style" under "Shooting menu"
Once the new page "Register Picture Style File" opens, select one of User Def. 1, 2 or 3 at the top of the new page
Click the open file icon
Select the CineStyle.pf2 file you've just downloaded
Click on OK
Recommended Canon DSLR camera settings:
Based on Technicolor's usage and testing of its CineStyle Picture Style, please use the following camera settings to optimize the image quality of your Canon EOS camera:
Sharpness: 0
Contrast: -4
Saturation: -2
Color Tone: 0
ISO: a multiple of 160 (160, 320, 640, 1250…it's better to use 160, instead of 100, because 160 is native…)