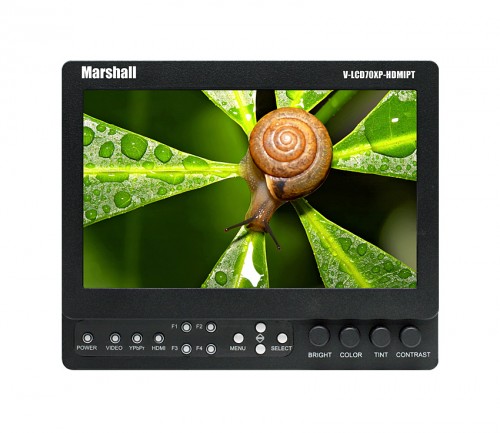 Marshall announced a new 7″ LCD with HDMI Loop-Through. Vincent Laforet has already tested the new Marshall LCD (V-LCD70XP-HDMIPT) and I think it's a good solution if you need a First AC to pull focus. You don't need an HDMI switch anymore. The new monitor costs round about $ 1,199 and is available now!
The other big function is the »DSLR Ratio Adjustment« feature, which will resize the image while recording. This is a great new feature and I will test it as soon as I get the new Marshall. Below you can see a short demonstration about this feature.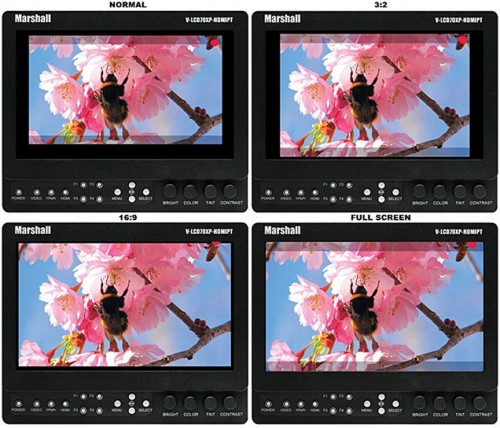 Thanks to Vincent for doing this Hands-on video! You can read a short test about this new monitor on his blog!
Facts:
• High resolution 800 x 480 LCD panel
• DSLR Ratio Adjustment
• HDMI Auto Color Space and Ratio detect
• Manual Gamma Adjustment
• Adjustable Backlight
• Image Flip
• 1/4″-20 mounts on all sides
• Robust Power switch and rugged front panel
• Variety of Markers, including user-adjustable
• HDMI Loop-Through*
• False Color On/Off
• Peaking Filter On/Off
• RGB Check Field / Field Detect
• 15:9, 16:9, 4:3, Pixel-to-Pixel modes
• 4 user-configurable function buttons
• Scratch Resistant Protective Screen
• RGB gain and bias control
• Variety of User-Replaceable Battery Adapters available