I have already used portable dollies for different projects, most of the time I had moderate success with them. Either the full rigged camera was too heavy and I had problems to get a fluid movement. But even with quite lightweight equipment I often had to repeat the movement for several times to get the perfect shot.
My first portable dolly was a Glidetrack HD. I decided to buy the 3 feet version and it was a big mistake. I thought it's essential to have this length to get a wonderful shot, but I soon realized that one or two feet length would be enough for my needs. Furthermore you have to use two tripods to keep the slider stable and if you are an one man show on a few shoots it's really annoying to get the Glidetrack and your whole equipment from one place to another place. So I was looking for a better solution to be more flexible.
A few months later Philip Bloom showed me a protoype of the Kessler Crane Pocket Dolly 2.0 Traveller at Lucasfilm set for RED TAILS. My first thought: Super smooth, two feet length is enough, great quality!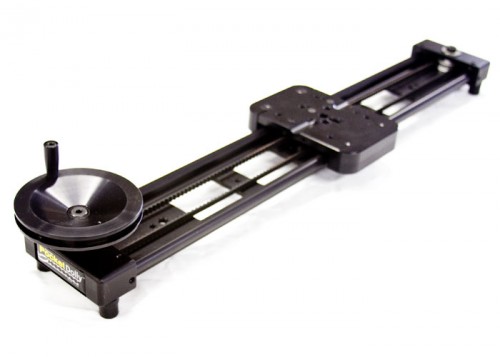 Smooth. Smoother. Kessler Crane Pocket Dolly.
The Kessler Pocket Dolly 2.0 has a ball bearing wheel design and gives it a great fluid feel. It has also a custom CNC machined firm rail to reduce or eliminate flex. If you would compare this dolly with an IGUS components slider you would feel the difference! Today I'm using the Pocket Dolly for nearly every shoot. During the Paris Fashion Week I shot most of the scenes with the Pocket Dolly in the locker room of the models. Even there I had usually only one attempt to get my shot. And it worked fine! Mission accomplished!

I used the Kessler Crane Pocket Dolly at Paris Fashion Week
Pro:
lightweight
CNC machined rail, no IGUS system like other sliders
ball bearing system
you can add Kessler Electra Drive for Motion Control
Smooth like butter!
Cons:
you have to pay for brakes separately
Too expensive in Germany
Conclusion:
You always can read on many other blogs about HDSLR filmmaking, that a viewfinder is the most essential accessories for a DSLR with video function. I have to disagree! The Kessler Pocket Dolly has become the most important piece of gear for my video work.
I'm not only using the dolly for a few moves, I'm also using it to be more flexible in small rooms, where I can change the position of my camera faster than moving the whole tripod. I used this method for a corporate film about a chocolate manufacture, which you can watch below of my conclusion.
At this moment I can't see any competitor against Kessler in that price range. If there is a good slider beside the Pocket Dolly, please let me know!
You can buy the Kessler Crane Pocket Dolly right here (BTW: this isn't an affiliate link!)

This film was shot in a small room where it wasn't possible to move the tripod. I used the Pocket Dolly to be more flexible. I changed the position of my camera on the slider without moving the tripod.